The Aquaknight product design team love a challenge.
Our aim is to look for weaknesses in common plumbing products and nut out a way to make the problem go away.
We've been in the plumbing business for years and it's fair to say we've seen a few problems and leaks along the way.
You can't get around the fact that showers use water – and where there's water there's a need to drain it away, including the rouge bits of moisture that over time can pool and deteriorate your shower floor, whether it be acrylic or tiled.
Unfortunately, even under the best conditions, moisture does occasionally escape. It might only be a drip here and there but over time it can cause you a headache. So, we figure that it's best you do everything you can to eliminate any chance of moisture escaping because once your shiny new bathroom is installed and finished you can't access these parts very easily if something were to fail. Moving plasterboard, waterproofing membranes and tiles is a very costly and disruptive necessity for fixing problems that may occur behind the wall or under the floor.
We've patented several of our ideas which all aim to give you an extra bit of confidence and security before the walls go on. Our Leak Return Ports and Glue Clips go that bit further in removing the risk of moisture build-up, and our Hair Claw means the awful job of unclogging hair from the drain is made simple and easy.
With all these world-first innovations, it's no wonder that many leading bathrooms and plumbing companies have been using Aquaknight products for years and know Aquaknight as a brand they trust to last the test of time.
Please feel free to CONTACT US if you would like to know more.
Aquaknight products are designed and manufactured to a high standard which is why we offer a warranty in line with the New Zealand Building Codes. Our Warranty, just like our products, is designed to give you as the installer or the building owner, greater peace of mind.
Storm Water.
20 year replacement warranty on all Storm Water product; to complement our supply partner's System-Wide Warranty.
Grey Water.
1 year on all 'Front of Wall' product.
7 years on all 'Behind Wall' product.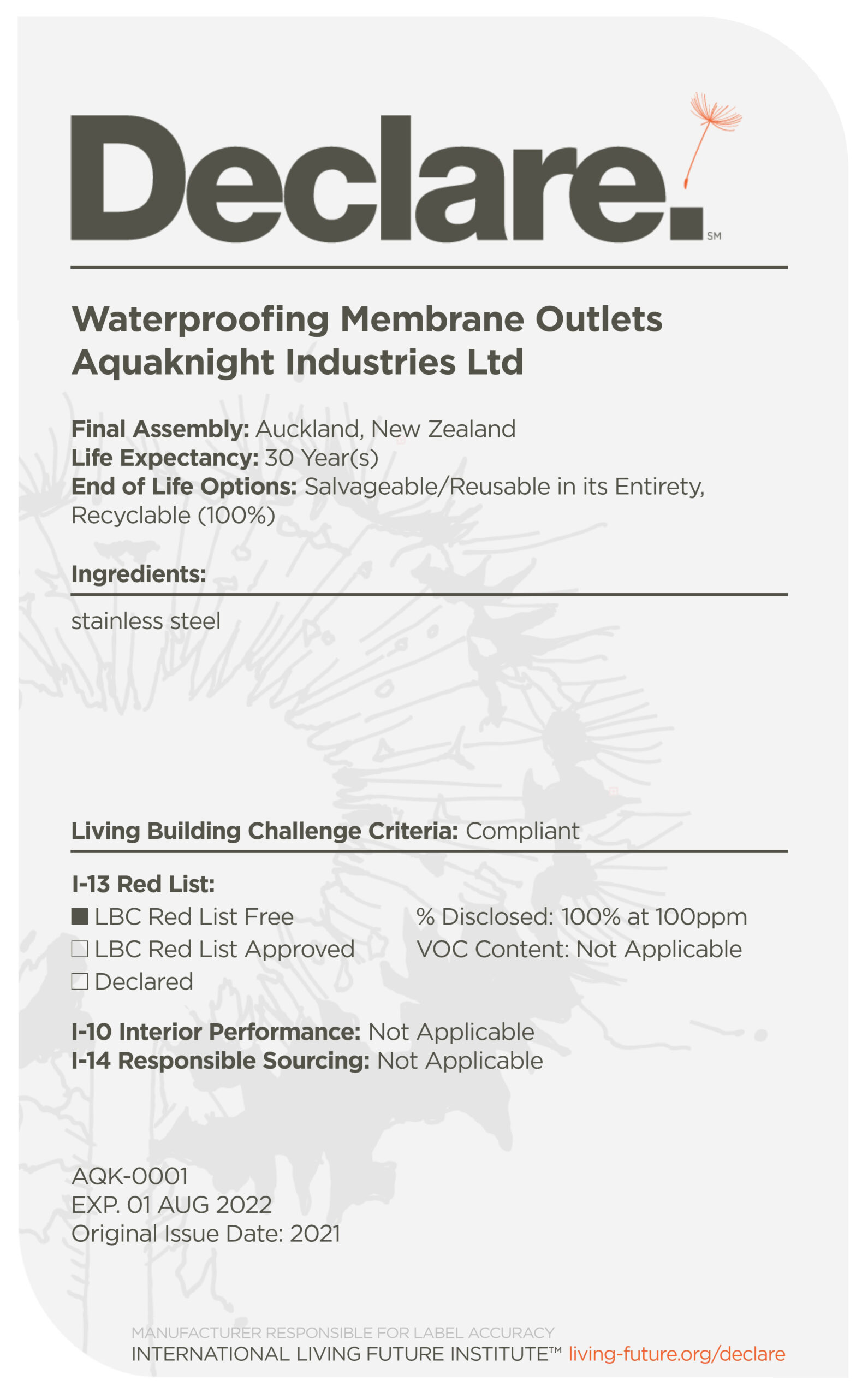 Integrating sustainability and environmentally friendly products into your design just got easier.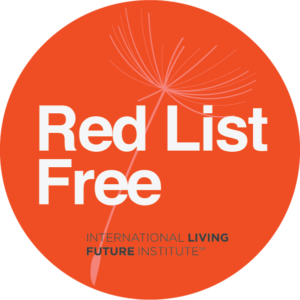 If you are designing a Living Building Challenge project, or are environmentally conscious, our Full Stainless-Steel range of outlets are now Declare Label listed and Red List free.
Declare is a transparency platform and product database that is changing the global materials marketplace. It lists factors such as materials used, responsible sourcing and third-party verifications.
Living Building Challenge Red List Materials contain chemicals that have been designated as harmful to living creatures, including humans, or the environment.
Our Full Stainless-Steel range is designed specifically for use with all Waterproofing Membrane systems commonly installed in New Zealand.
ISO 9001 Quality Management System
ISO 9001 certification helps organisations to develop and improve performance, as well as demonstrate high levels of service quality.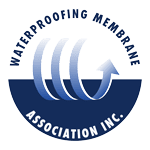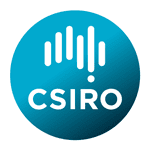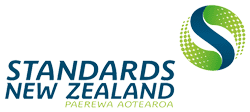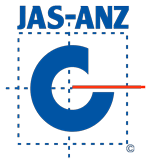 Waterproofing Membrane
Association inc.
A New Zealand industry wide body developing Codes of Practice and setting the benchmark for the specification and installation of integrated waterproofing membrane systems.
Commonwealth Scientific and Industrial Research Organisation
Australia's premiere industrial materials and engineering, testing and research facilty.
Standards New Zealand
We develop the building standards that become listed as Approved Solutions to the New Zealand Building Code.
Joint Accreditation System of Australia and New Zealand
We accredit the bodies that certify and inspect organisations, products and people.
Looking for great quality plumbing products that stand the test of time?
Look no more! Give us a call for a free quote! Call: 09 832 2214
"As a professional plumber, I've installed quite a few Aquaknight shower drains over the years and they have proven to be incredibly reliable. I always recommend them to clients"
BRIAN WILSON
"As plumbers, we get called out at all hours, any day of the year. Christmas Eve and we urgently needed a spare part to finish a job but no one was open. Rodney came out and opened up just for us. Rodney and his team at Aquaknight get it! They go the extra mile for us with personal service that is second to none."
Ben De Wet
Co-Owner, Fox Plumbing Ltd
"I purchased Aquaknight to allow me to install a shower base in an upstairs bathroom. It is a very good product and the quality is far superior"
BOB MARDY